Listening to the music I like; eating the food I like; trying on my own clothes, readin my books,prying into my own thoughts, memories, scents. The onlooker is simply asked to enter my own life by using my own things. The only limit is time, which is scanned by the timer I hold in my hands.
Photo - Anna Berndtson (with a my camera in a performance)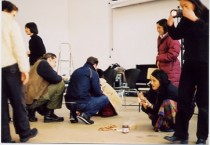 No sound, no noise. Just me and a Knife hanging over my head. A dialogue between me and the blade. I joke with this blade: I make it swing....... on and on..... meeting with his dance.

Photo and video - Yingmei Duan